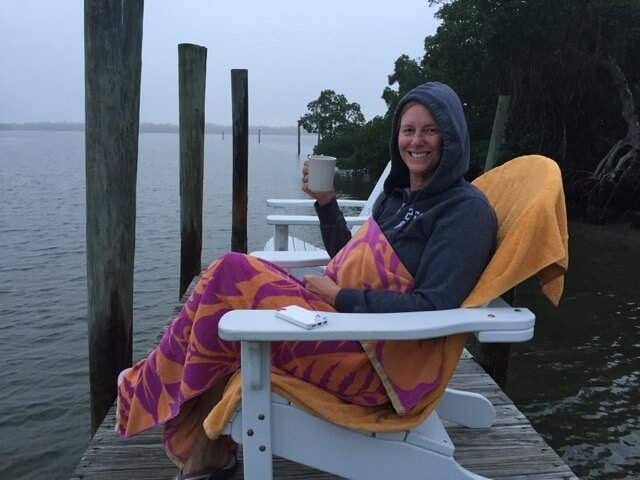 One of the greatest rewards of being part of a family-owned resort community is getting to know our guests, especially those who come back time and again.
Jan and Kevin Wolf are the perfect example: kind, generous, fun people who have themselves become members of our wonderful extended Cabbage Key family. They are a fabulous couple, high school sweethearts, who have been married for more than 30 years and have four grown children. They bought a new boat a few years ago, and now that the "soccer" years are over, they have a bit more time to spend with us. We had a chance to hear from Jan recently about why she and Kevin enjoy their overnight stays at Cabbage Key, and of course, we had to share:
"I'm sure everyone likes something different about being at Cabbage Key, but for me, it's about the people, the environment, and the wildlife. We love that we know everyone's name, and everyone knows ours. We take our friends and family there for dinner all the time – our favorite is the fish special. Of course everyone loves to drink the signature Cabbage Creepers. And while the food and beverages are exceptional, the highlight is chatting with staff members Debbie, Marlene and Ken. It's like catching up with old friends.
Another part of the Cabbage Key experience is getting to know the wildlife. Are you familiar with that chirping sound you hear on balmy Florida evenings? That is the sound of tree frogs which for me is the perfect background for our times at Cabbage Key, away from the clamor of everyday life. There once was a bird named Floyd who would hang out on the dock and chase the other birds away. Also, there are amazing dolphins who love to swim in the wake of our boat, and you can sometimes see manatees.  I've even seen otters out there – there was one who would use his nose to open up the cooler lids. It's incredible how much nature you can observe at Cabbage Key when you are watching for it.