A SMALL, SECLUDED ISLAND ACCESSIBLE BY BOAT or helicopter, Cabbage Key is beyond the real deal when it comes to experiencing the old Florida lifestyle. "We're right off what I call the I-75 for boaters — the Intracoastal Waterway," says Rob Wells III, whose family stewards the island and runs the iconic inn and restaurant there. Located at mile marker 60, about eight miles north of Sanibel and Captiva, the historic island is worlds away from both mainland and mainstream culture.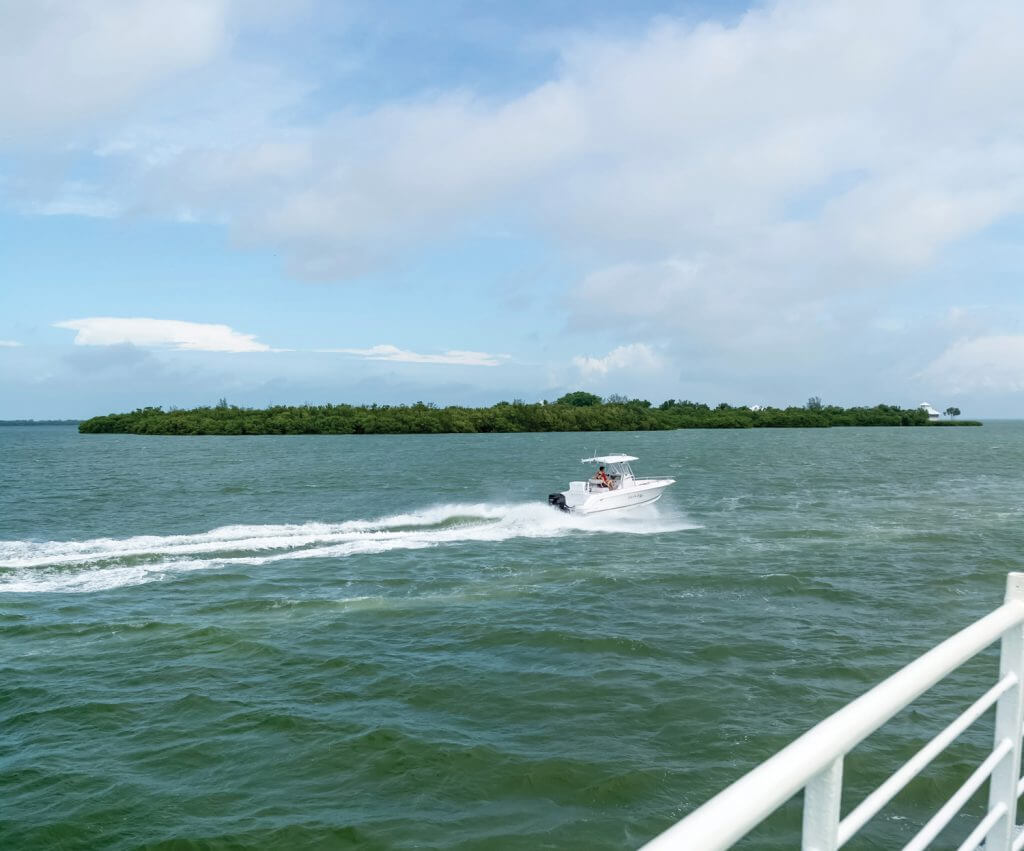 With an "open air" restaurant and bar, the Cabbage Key Inn and Restaurant thrusts you into another time as you sit in awe at how well the breeze flows from the mesmerizing waters of Pine Island Sound into the screened-in patio, through the bar into the back screened dining area.
Perched atop a 33-foot Calusa shell midden with about a dozen gopher tortoise burrows, a family of ducks and massive Cuban laurel trees dripping with Spanish moss and vibrant bromeliads, the inn feels almost like an organic edifice on the 100-acre island.
Whether or not Jimmy Buffet, a frequent visitor in the late '70s and '80s, wrote "Cheeseburger in Paradise" about Cabbage Key is irrelevant. Eat a char-grilled cheeseburger there and you'll forget all about Margaritaville as you enter a zone unknown to you before.
Unplugged allure
Stewarded by five owners over eight decades, the island is now under its longest stretch of family ownership, with Rob and Phyllis Wells having passed the torch onto their sons Rob and Ken, who grew up on the island.
"Some of those gopher tortoises were here when we first came to the island, so they live a long time. And, there are a lot more now." says Mr. Wells, as if the tortoises, which staff feed daily, have as much right to the land as they do.
About three years before I-75 was extended south to Fort Myers, the Wells purchased the resort in 1976. Electricity and phones arrived on the island in the early '80s as development began to boom around the region.
"The way I grew up, my boat was like what a bike was to most kids," says Mr. Wells, who has two daughters, aged 8 and 11. "That's how I would go visit my friends on Captiva and over on Pine Island."
As part of the only family that has successfully passed on stewardship to a second generation, Mr. Wells, who also runs the Tarpon Lodge in Pineland, says he never thought of doing anything else.
"This kind of business is in your blood, for us it's not really just a business, it's a lifestyle," he says. On the Sunday of Memorial Day weekend, despite Tropical Storm Warnings from Subtropical Storm Alberto, Mr. Wells and his family, as well as some long-time friends and their families boated over to Cabbage Key from Pine Island when the sun briefly broke through the clouds.
"It was a rough ride at times," he admitted. "But to have all of us together, and my wife and daughters, eating at the inn and enjoying each other's company, telling stories and making stories, it just felt like what it's all about to me."
Having an atmosphere that encourages conversation rather than obsession with digital devices is very intentional at Cabbage Key. Decorated with black and white photos of the island's fascinating history, as well as more than $70,000 in $1 bills that flap in the breeze, the place itself is fodder for much conversation.
Historic mystique
Based on an old fisherman's ploy where leaving a dollar taped to the bar ensured a cold drink on his next visit, staff eagerly provide black permanent markers so guests can leave their mark on dollar bills taped up with masking tape.
Built in 1936 as a six-bedroom seasonal home for the family of the celebrated mystery writer Mary Roberts Rinehart, the inn offers overnight lodging in rooms in the main house as well as several cottages. It's one thing to enjoy one of three meals served 365 days a year and yet another to spend a night or two and experience the serenity of the island when the crowds leave.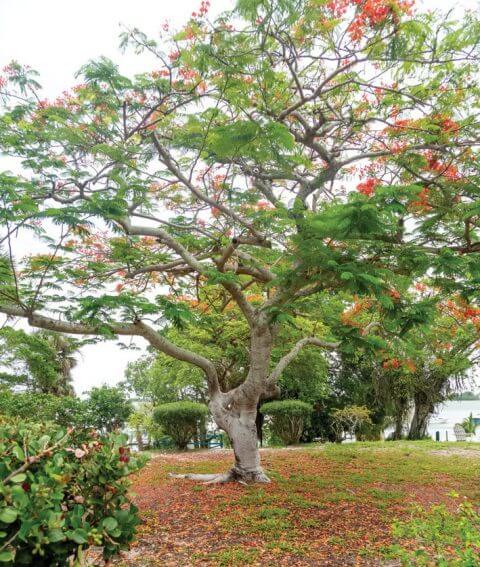 Mark Young, who manages the island and hires staff, has lived on Cabbage Key for the past five years. He and another 18 staff members share space in homes off the island's meandering nature trail. An avid history buff, he was thrilled the Wells family got the island listed on the national and state historic register a few years ago.
As resident historian, Mr. Young is working on a timeline of important milestones for the inn's website.
"There are a lot of stories about Cabbage Key. Some can't be proved, and some can," he says. "But they're stories and people are going to tell them."
Ms. Rinehart, who was first invited to neighboring Useppa Island by President Herbert Hoover, was a prolific writer, feminist and tarpon hunter. Having written about 50 novels and numerous plays, her connection to the island is legendary.
Did she ever reside on or write on the island? Not as far as Mr. Young has discerned, but she did hang out with the elite on Useppa and introduced her family to the islands.
In 1936, her son Alan Rinehart and his wife, Gratia, purchased Cabbage Key, which was then known as Palmetto Key, for $2,500.
"Gratia was a Houghton and came from a lot of money. Her dad was an ambassador," says Mr. Young. "She hired one of the best architecture firms of the day and got the best building materials and had the home situated and designed to make the most of the breezes."
Two cottages, the water tower, the boat house and the main inn were all built at that time and have withstood several hurricanes, remaining structurally sound, with the hard pine interiors and floors, doors and windows largely all original.
Transition to an inn
In 1944, Larry and Jan Stults purchased the island when they offered $25,000 on a $45,000 listing. They turned the main home into an inn and ran it as the Cabbage Key Inn & Studio until 1969, featuring paintings classes and well-provisioned sunset cruises.
"It was a place to come and just relax and unwind. They served all three meals and it was hard work for the family," says Mr. Young, who has corresponded with Taylor Stults, son of the owners who opted to go into academia. "Taylor writes about how a photo of his dad on a lounge chair with a guest holding a palm frond did not depict what life was like running the inn."
After transition from two other owners, one that added the bar and liquor license, Rob and Phyllis Wells took over as island stewards in 1976, making their 42-year stretch at ownership considerably longer than the 25 years the Stults ran it.
Under the Wells, the island operates as a truly family-based and oriented business, with staff eating meals together between shifts and living together. The atmosphere is friendly and unpretentious, and the menu features classics including homemade "icebox" key lime pie, specially-spiced yellow rice and black beans, gulf shrimp and stone crab claws as well as a rubbed ribeye with sautéed mushrooms as a dinner specialty, alongside daily seafood specials.
Getting there by boat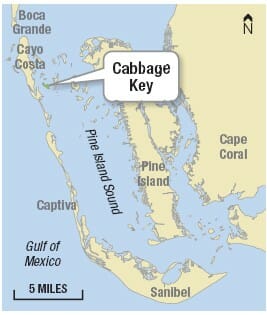 Don't have a vessel? In a long-standing partnership with Captiva Cruises, the restaurant serves lunch daily to as many as 150 guests who make the trip aboard the double-decked Lady Chadwick out of South Seas Marina.
With A/C and a full bar on its main deck, the Lady Chadwick is a great vessel for summertime trips to Cabbage Key. The upper deck has table seating in an open and shaded area.
"We've done this trip before and this time we brought our friends along," said Lorraine Kelly of Savannah, who was staying on Sanibel. "We just think it's such a fun thing to do and such a pretty cruise over from Captiva."
Guests on the Lady Chadwick can also opt to stay a night or longer on Cabbage Key and catch a ride back to Captiva on another day's lunch cruise. A long-standing island business, Captiva Cruises operates with a friendly and family-run mentality and staff prides itself on hospitality.
With some veteran staff going back 20 years or more, the cruise includes narration on history and island lore. Dolphin love to roll in the wake of the Lady Chadwick, showing off their pink bellies, as the boat departs the South Seas marina.
For those arriving by private boat, the Cabbage Key marina has 90 slips, with hook-up, showers and laundry facilities.
"We'll do up to 600 lunches a day in our peak season from mid-February to Easter," says Mr. Wells. "But we also have a strong summer season when our locals get out on the water and families come with kids."
With its laid-back and casual atmosphere and its historic mystique, Cabbage Key is a one-of-a-kind experience that casts a charming spell of simple, old Florida.
"Ultimately, we give our guests a true getaway from modern-day Florida," says Mr. Wells, "It's a very special thing for us to be a part of and we'll see how it goes with my daughters and my brother's kids. If carrying on the business is something they had the interest in doing, that would be great."
Learn more about Cabbage Key at cabbagekey.com or call 283- 2278 to book rooms at the inn or cottages ranging from $134 to $550 a night. No reservations are needed for breakfast or lunch, but dinner reservations are required. To book passage on Captiva Cruises, go to captivacruises.com or call 472- 5300.
---
This article by Barbara Linstrom originally appeared on fortmyers.floridaweekly.com