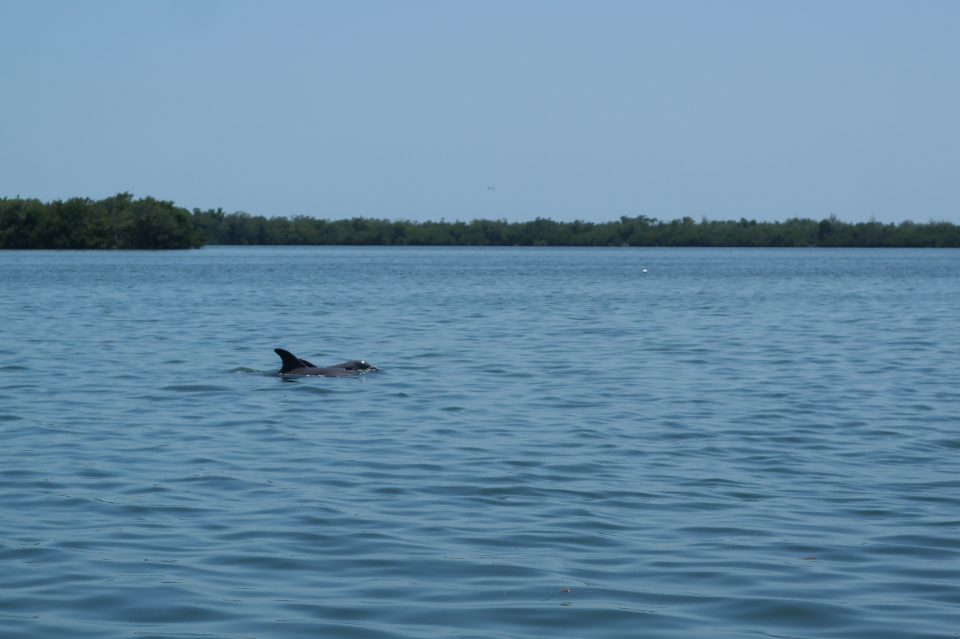 Is there anything better than combining a day's boating to a charming "Old Florida" island – Cabbage Key – with swimming at a pristine beach and dolphin watching? Maybe, but this pretty much sums up my perfect day out. If you add no traffic worries (no cars at all on Cabbage Key), lovely lush surroundings, gopher tortoises and a delicious lunch in a historic restaurant, this outing is hard to top. Wouldn't you agree?

What And Where Is Cabbage Key?
Cabbage Key is one of the many keys and islands located in Pine Island Sound on the south-west coast of Florida, and can be reached via ferry and cruise companies on Pine Island and Captiva, or – by far the best option if you dare – by private boat. Captiva and Sanibel are the perfect starting points for such a boat trip.
First, a little bit of Cabbage Key history:
Archaeologists have found evidence, in particular shell middens, that suggest Cabbage Key was occupied by Calusa Indians since 100 BC until the 1700's AD. Fast forward to more recent times, the Rineharts (Alan and Gratia) purchased Cabbage Key – then known as Palmetto Key – in 1934. Cabbage Key was undeveloped at that time and said to have been occupied by one squatter, some wild pigs, and the usual Florida critters.
The Rhineharts intended to use the island as their winter retreat and started building their estate on the island, with the main house right on top of a big Calusa shell midden.
The estate was finished in 1937 and included everything one needs to live fairly comfortably on the little island: a main house (now the restaurant), a boat house with docks, a water tower, cottages and a power house.
Well, almost everything one needs. Visiting in June had me wonder how they survived without air conditioning. Of course, there was no air conditioning back then (gasp) and I am guessing that they really only spent winters in this tropical paradise. When we visited it was over 90 degrees in June and we were melting away with hardly a breeze due to the island being sheltered by its lush vegetation.
Gratia Rinehart retained ownership of Cabbage Key after the divorce of the couple. However, she died in her thirties and Cabbage Key was subsequently sold to another couple, Larry and Jan Stults, in 1944.  The Stults' began to develop the existing island buildings to establish Cabbage Key Inn.
Today, the island is owned (since 1976) by the Wells family. There is a historic restaurant on the key, as well as accommodation – perfect if you want to get away from it all. Yes, you can actually stay on this little paradise and enjoy Old Florida not just for a day. Details of staying overnight can be found here.
How to get there?
We decided to rent a boat on Captiva and try to get to Cabbage Key that way, wanting to do our own thing in our own time rather than do the "tourist thing" and potentially being rushed. However, if you don't want to rent your own boat you can reach the island via various ferry services from Pine Island and Captiva.
The boat trip was a bit "adventurous" since we had never been boating in the area and Pine Island Sound has some notorious shallows. Thanks to a handy chart provided by Tween Waters boat rental, however, we did get to Cabbage Key in one piece.
I must admit that at first I was a tad concerned about cruising in a little boat with no depth finder bar a paddle, and no GPS whatsoever. At first, I thought the nice man in the marina was joking when I asked about the depth finder, and he said "no electronics, but there is a paddle for that". Ha ha, very funny. Turns out there was really just a paddle…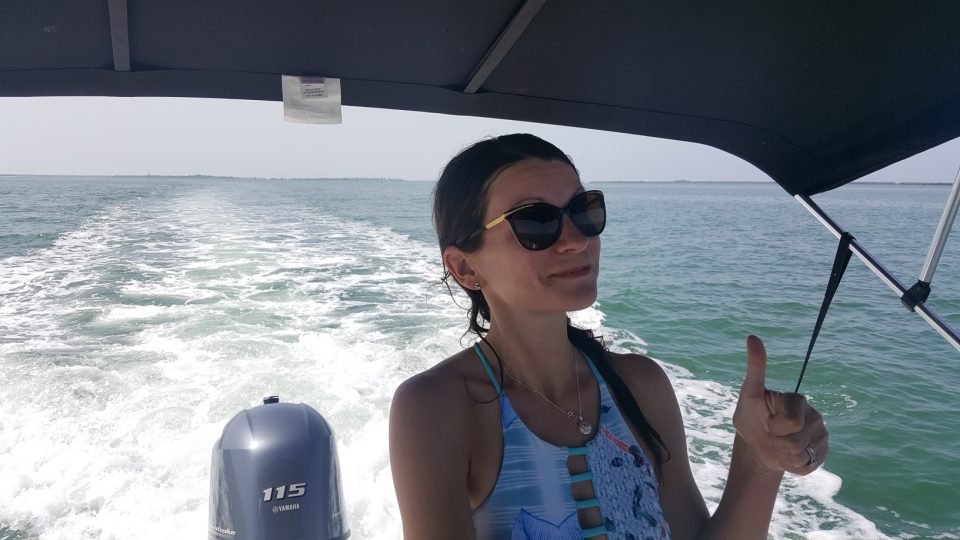 However, it all turned out fine. I only saw the ground (and freaked out) once, and even got to steer the boat for a bit. And we live to tell the tale!
Also, there are dolphins everywhere. We would have considered ourselves lucky to have seen one, but at the end of the day we must have seen several dozens including mothers with young calves. We had hardly pulled out of the marina when we spotted the first dolphins, and we saw more of them virtually all day long. Truly an amazing and unforgettable experience.
Keep an eye out for the historic fishing shacks on stilts which you will pass on the eastern side of the intracoastal when cruising up to Cabbage Key. Don't attempt to get too close, as it is pretty shallow that way. We were tempted but had very firm instructions not to venture that way…
As we approached Cabbage Key, we were greeted by a very friendly helper named Jonathan who helped us dock on the island and also volunteered some information about the place and the gopher tortoises. As soon as we hopped off the boat and onto the island, we began to melt rapidly – it was a very hot day and no breeze to be found.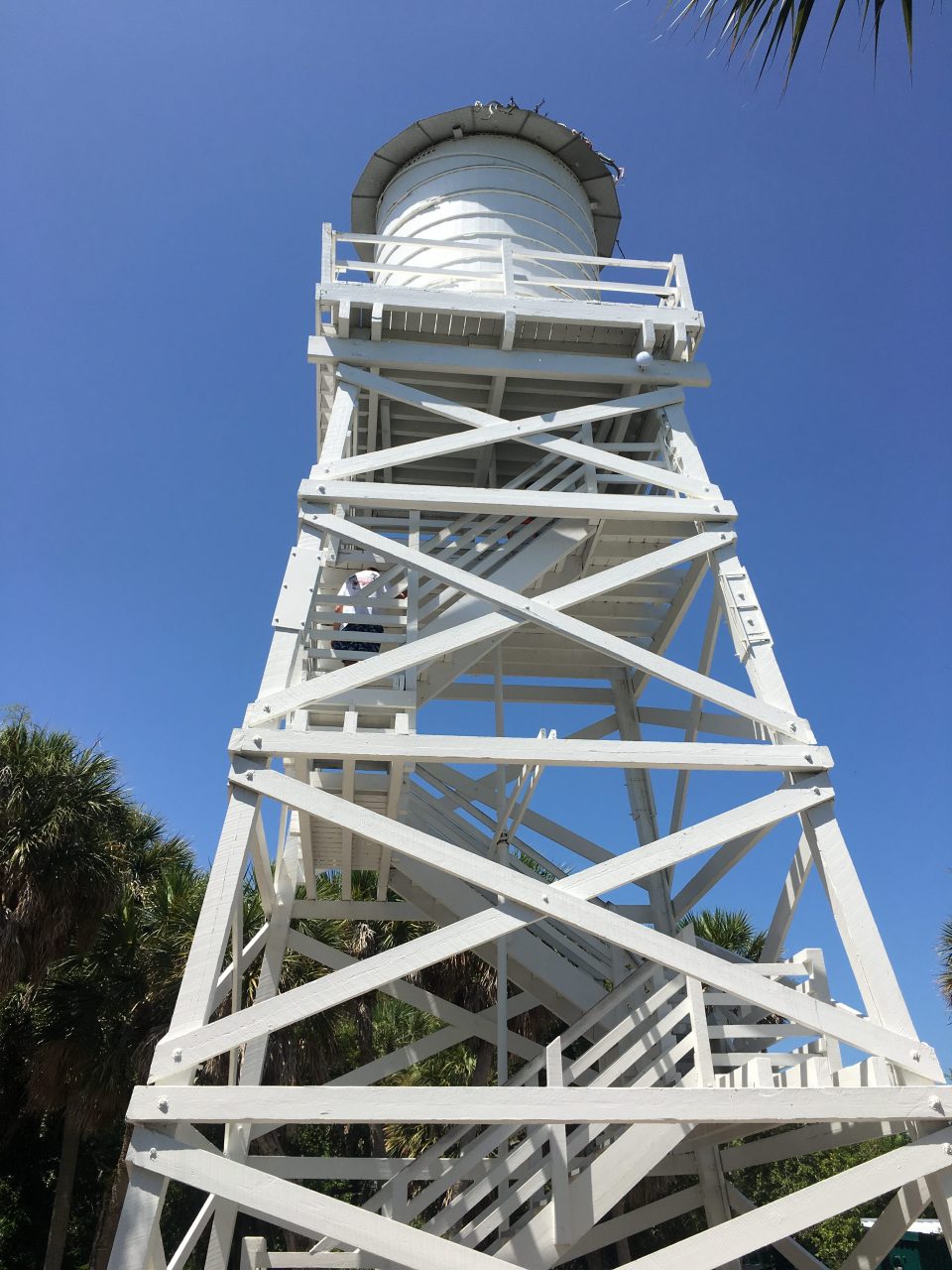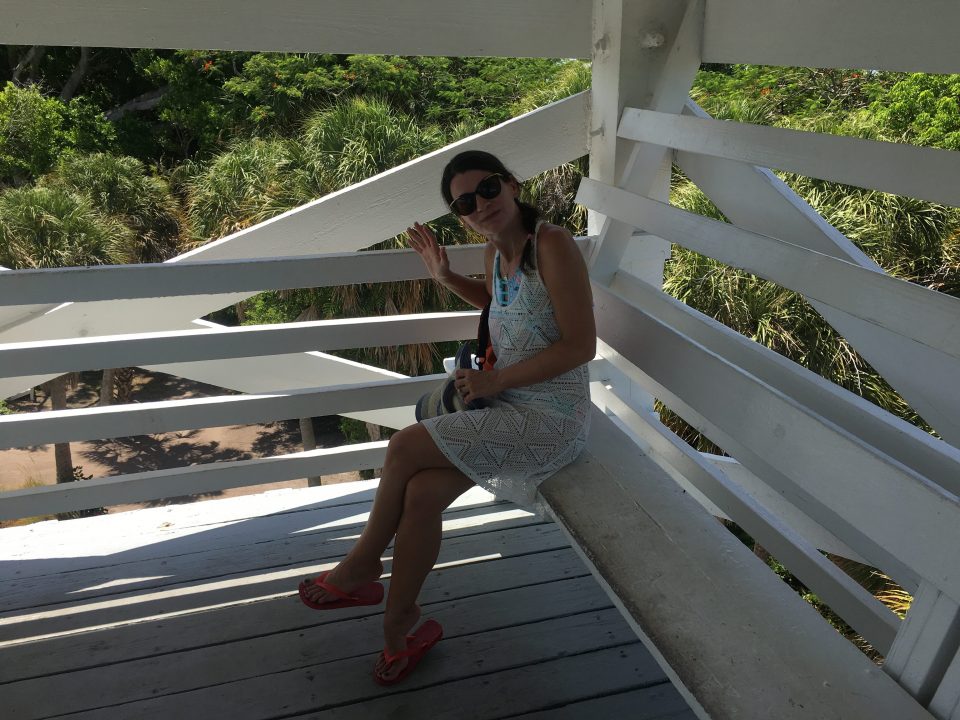 We climbed the water tower to get a good view of the island, and that was definitely worth it, also for the hint of a breeze on top. After checking out the gopher tortoises (look for the fenced burrows with their names), we had lunch in the restaurant. We thoroughly enjoyed the quirky and historic atmosphere, as well as the food there. They have a small menu which means the food is fresh and they do those few items really well. Check out the "Old Florida" decor and the dollar-bills wallpaper.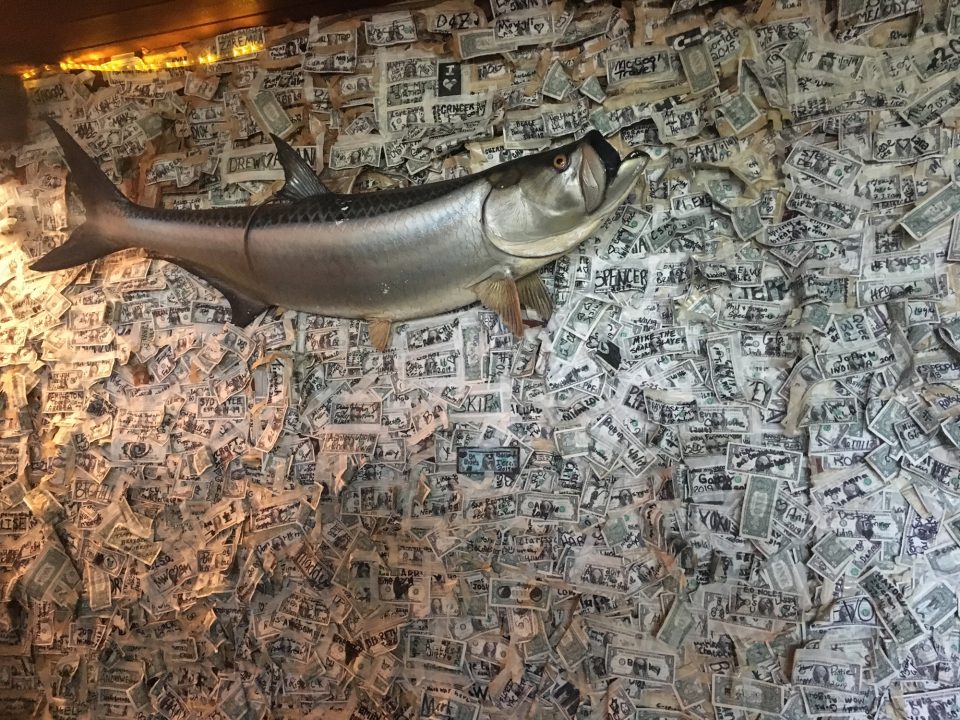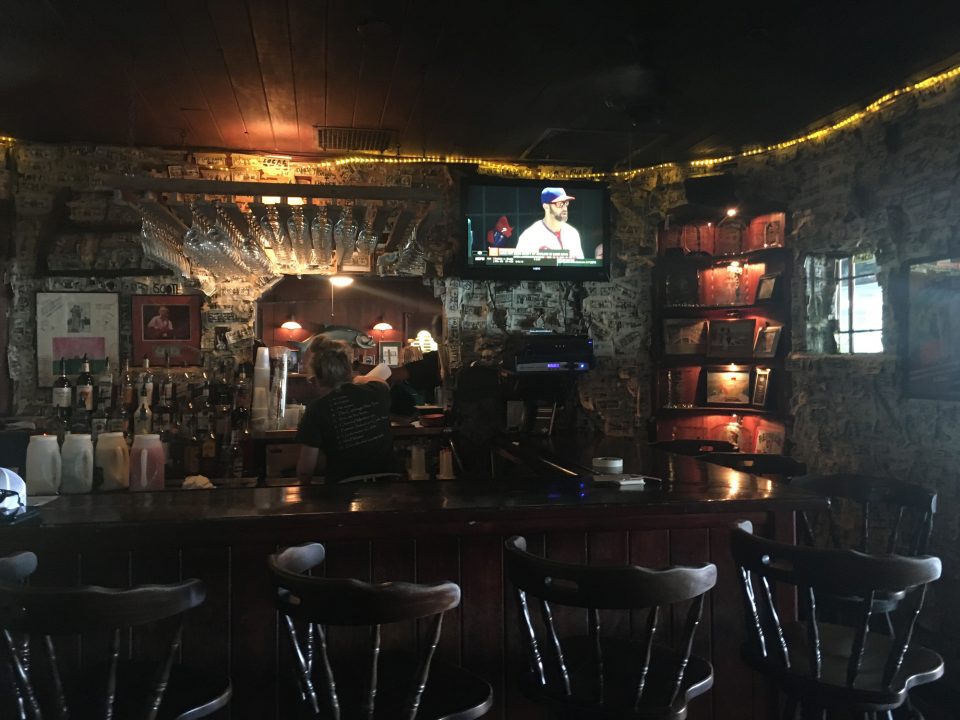 Cayo Costa Beaches
After melting on Cabbage Key for a couple of hours, we decided to track up to Cayo Costa State Park dock for a look, and then back down to the southernmost tip of that barrier island for a beach break and a swim at Pejuan Point beach. We were desperate for a cool down, and thankfully the water here felt quite refreshing due to the beach being so close to the inlet. This beach was recommended to us by our boat rental place and it certainly did not disappoint.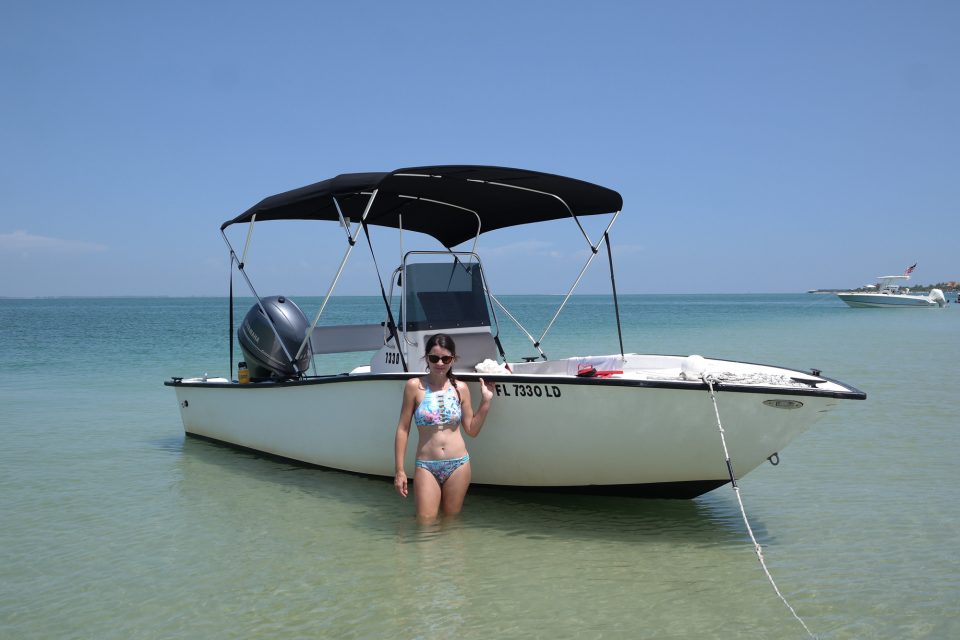 We were told not to go into the inlet and ocean, but instead anchor up on the intracoastal side. We saw a few boats already there, so it was easy to spot the best place to anchor.
What an amazing beach this is. Not only was the water turquoise and clear with a nice sandy bottom, it was also absolutely teeming with life here. We saw starfish, hermit crabs, other crabs, and all sorts of small and large fish such as mullet and snook. And, the whole time we were there, a pod of Dolphins was hunting not far away in the deeper water.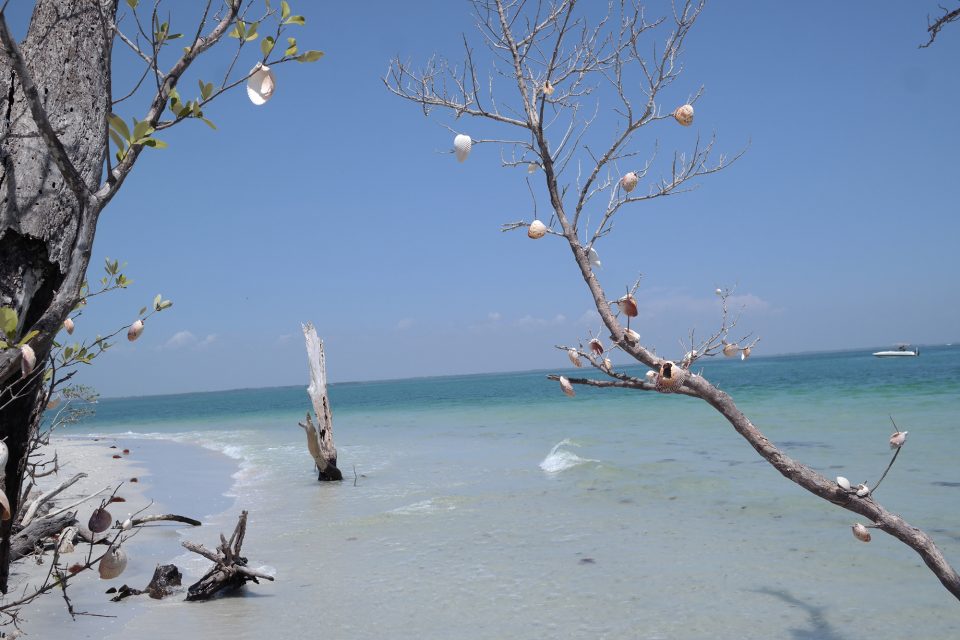 We were told that the beach facing the Gulf of Mexico is one of the top beaches for shelling, and easily reached by walking from our anchoring place around the southern point of the inlet. I did attempt to get there, but the tide was quite high and it was also very hot, so I returned to the boat after photographing some of the barren trees on the tip of the island. It is truly beautiful there, and I did not want to go back.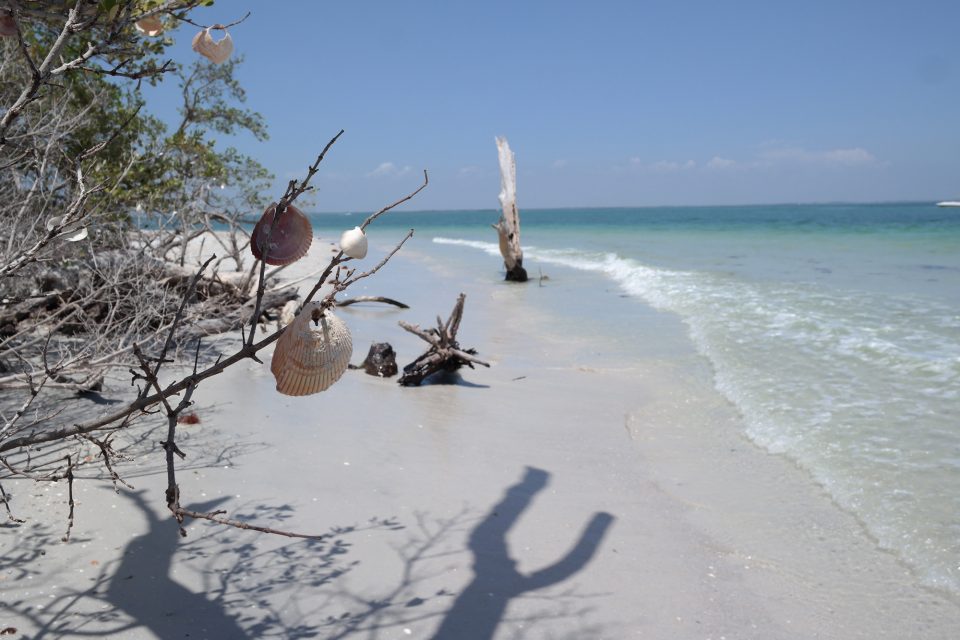 How To Get To Cabbage Key And Cayo Costa By Boat
We rented a boat from Tween Waters and were told the exact route to Cabbage Key, as well as Cayo Costa, which made boating there a breeze. However, I do suggest paying very close attention to the markers in the intracoastal, as the area is full of treacherous shallows, especially at low tide. Also, you see the locals sometimes not paying a lot of attention to the markers and cutting through here, there and everywhere. Don't be fooled, these people have local knowledge (I hope) and know the waters.
For those like us, who do not live in the area, it is advisable to pay close attention to directions given by your boat rental, and most of all to pay close attention to the markers. No shortcuts! We made the mistake of following a local boat for a moment – and this was when I saw the ground briefly. Luckily, it was deep enough and nothing happened, but this was also a timely reminder that it's best to stick to what you know.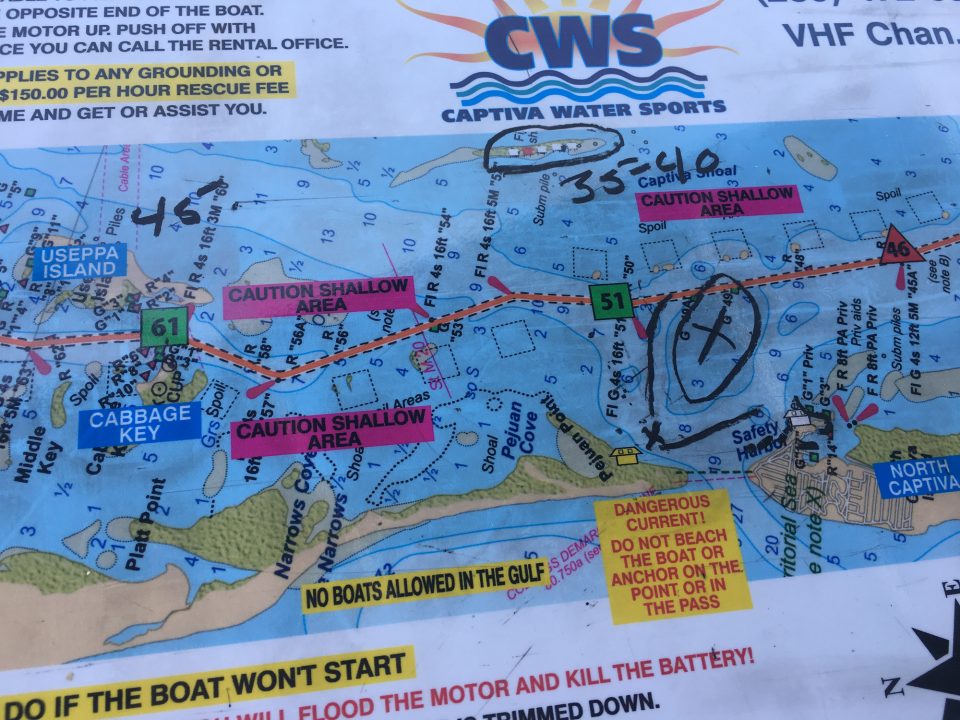 If you are heading up the intracoastal, marker 61 will show you a sign for cabbage key heading east (to your left as you cruise up north from Captiva). Marker 51 is the one to turn in from (ocean direction, or west), if you wanted to head to that beach at Pejuan Point, as displayed on the handy chart above.
It's a lovely trip. Have you been to Cabbage Key?
---
This article by Tamara Scharf originally appeared on tamarascharf.com